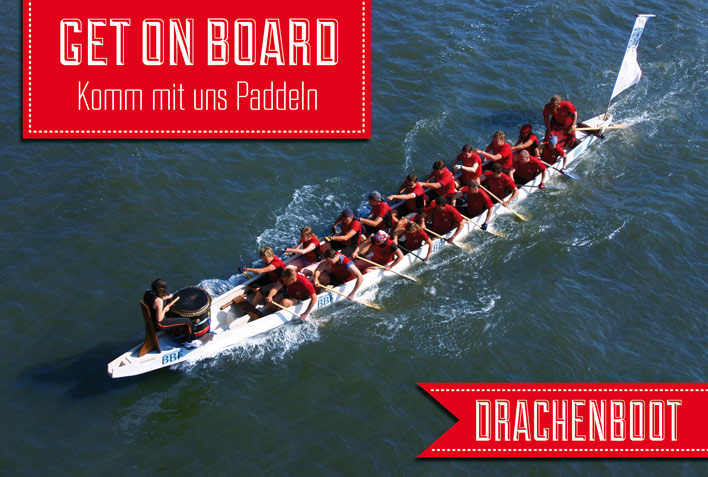 Dragon Boating in Frankfurt with FKV Dragonauten
Dragon boating has been a popular sport in Frankfurt since the early 90's. Every year the region's numerous dragon boat crews test their strength in the Museumsuferfest races, a mid-summer event for social, corporate and competitive club teams that coincides with Europe's largest cultural festival. As the dragon boat crew of Frankfurt's oldest canoeing club, FKV Dragonauten have a long tradition of successfully participating in this regatta.
If you are interested in dragon boating in Frankfurt, we would like to meet you! We are a group of 20-something to 50-something year-old men and women who enjoy being out on the water year-round.
We train hard…
Our coaching team puts a strong emphasis on teaching proper paddling technique. They also focus on endurance training, which means you will cover a lot of distance in most of your sessions. Starts and sprint exercises are part of the program as well but usually more so during the warmer seasons, while in winter the focus is on building strength and stamina. We welcome new paddlers year-round but we find that our winter training is particularly effective at getting everyone fit and well prepared for the racing season when we compete in races around Germany and abroad.
… and we enjoy playing
Off the water our crew excels at creating culinary delights – often evidenced by extensive finger food and salad buffets at the race site. We use Frankfurt's hot summers for occasional visits at a local ice cream parlour down by the waterfront and in winter we regularly visit the Frankfurt Christmas Market to enjoy a cup or two of mulled wine – always by boat of course. Our St Martin lantern paddle procession in November has become a well-loved tradition as has paddling to the Frankfurt Radio Symphony's open air concert at Weseler Werft in August. These are great opportunities for people new to Germany to get aquainted with German tradition and culture.
Sounds like a great way to make new friends and get fit at the same time? We think so!
Send us an email and let us know when you would like to join us for a free trial session. We can't wait to meet you!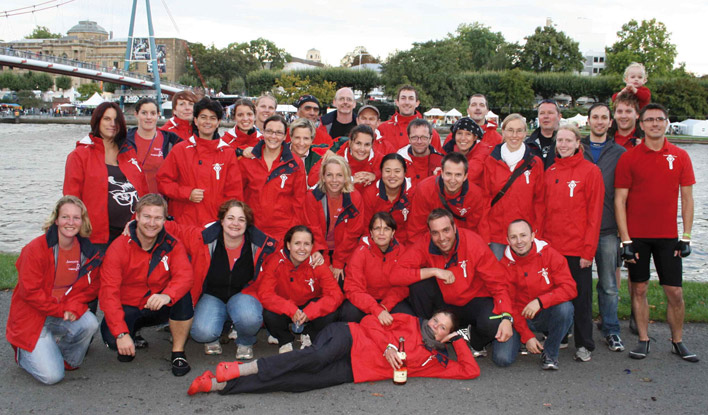 January – March:
Tuesdays and Thursdays we train on the water, weather permitting.
We meet at 6:45 pm in the club's changing room (upstairs). Boarding is at approx. 7:15 pm, the session ends at approx. 8:30 pm.
On Thursdays we also offer an optional gym training session at Comeniusschule in Bornheim.
We meet at 6:45 pm in front of the school entrance. The session ends at approx. 8:30 pm.
Address: Comeniusschule, Burgstraße 59, 60389 Frankfurt am Main
April – December:
Tuesdays and Thursdays  we train on the water.
We meet at 6:45 pm in the club's changing room (upstairs). Boarding is at approx. 7:15 pm, the session ends at approx. 8:30 pm.
Team Captains: Julia Schulte-Terboven and Daniela Hofmann
Coaches: Tom Macholl and Sabine Schneider